The Nightmare Room is a TV Series based on The Nightmare Room book series by R.L. Stine. It aired on Kids WB from August 31, 2001 to March 16, 2002, with a total of 13 episodes and 1 season. It was narrated by James Avery, who is most famous for his role on The Fresh Prince of Bel-Air. It is one of Kids WB's only live action television shows.
It was nominated for an Emmy in 2002 for Outstanding Achievement in Sound Editing.
Opening narration
When the lights fade and the moon rises, anything can happen. The world becomes a carnival of shocks and chills. A whirling merry-go-round that never stops, spinning faster and faster, taking you on a frightening ride. I'm R. L. Stine. Don't fall asleep... or you might find yourself in The Nightmare Room.
Episodes
No.
Title
Directed by
Written by
Original air date
Production


code

1
"Don't Forget Me!"
David Jackson
Story by: R. L. Stine


Teleplay by: Paul Bernbaum

August 31, 2001
001
Danielle Warner (Amanda Bynes) along with her brother, Peter Warner, and the rest of her family, have

just moved into a new house where the basement is haunted by the ghosts of children who have been forgotten by their friends and families — and lure living children in by making their friends and families forget about them.

2
"Scareful What You Wish For"
Anson Williams
Naomi Janzen
August 31, 2001
002
While packing away all of the toys from his childhood days before his 14th birthday, Dylan Pierce (Shia LaBeouf) is haunted by a strange little boy (played alternately by Dylan and Cole Sprouse) who turns out to be Dylan's favourite childhood doll come to life - and he's not willing to let his human friend go. Also starring Tania Raymonde, Marcus T. Paulk and Betsy Randle.
3
"The Howler"
Steve Dubin
Story by: R. L. Stine


Teleplay by: Scott Murphy

September 29, 2001
003
Three kids (Cara DeLizia, Jeremy Ray Valdez, Jermaine Williams) find a strange machine called "The Howler" that lets them communicate with ghosts, but the ghosts that come out need three human bodies to

possess.

4
"Tangled Web"
Ron Oliver
Paul Bernbaum
October 6, 2001
004
A boy named Josh (Justin Berfield), who has a reputation for lying, suddenly finds his outrageous tales

coming true after a substitute teacher tells Josh that he believes everything he says. Also starring Steve "Sting" Borden and Naturi Naughton.

5
"Fear Games"
Ron Oliver
Story by: R. L. Stine


Teleplay by: Paul Bernbaum

October 13, 2001
005

Five teenagers on a Survivor-esque reality game show must compete in island challenges—and fight a psychotic witch who haunts the island. Starring Lindsay Felton, Eric "Ty" Hodges II and Roger Lodge.

Note: Loosely based on the first book of The Nightmare Room Thrillogy called "Fear Games".

6
"School Spirit"
Rich Correll
Scott Murphy
October 20, 2001
006
A group of students serving detention must help the ghost of a teacher

whose contributions are being buried and forgotten. Starring Madeline Zima, George O. Gore II, Keiko Agena, Jeffrey Licon, Jenny Gago and James Karen.

7
"Full Moon Halloween"
Rich Correll
Story by: R. L. Stine


Teleplay by: Naomi Janzen

October 27, 2001
007
A group of teenagers grow suspicious of one another when a werewolf is heard to be on the loose in their town. Also starring Michael Galeota.
8
"Four Eyes"
Michael B. Negrin & Brian Robbins
Scott Murphy
December 1, 2001
008
In this take on the cult horror satire film, They Live, a boy's new glasses gives him the power to see aliens secretly living among humans and ready to take over the world. Starring Josh Zuckerman, Lynsey Bartilson and John C. McGinley.
9
"Locker 13"
Ron Oliver
Story by: R. L. Stine


Teleplay by: Richard H. Rossner

December 8, 2001
009
A superstitious boy is terrified of the consequences when his school assigns him Locker #13, a locker rumored to give the owner eternal bad luck. Starring Brandon Gilberstadt, Boris Cabrera, Mary Stein, Ken Foree and Angus Scrimm.
10
"Dear Diary, I'm Dead"
Steve Dubin
Story by: R. L. Stine


Teleplay by: Paul Bernbaum

February 2, 2002
010
Alex (Drake Bell) discovers a diary that predicts the future — including his death. Also starring A.J. Trauth and Brenda Song.
11
"My Name is Evil"
Anson Williams
Story by: R. L. Stine


Teleplay by: Lee Goldberg & William Rabkin

February 23, 2002
011
A boy's encounter with a carnival fortune teller leads to a chain of

disasters that point to him as an evil entity. Starring Shan Elliot, Kaley Cuoco, Melody Johnson and Beth Broderick.

12
"Camp Nowhere: Part 1"
James Marshall
Story by: R. L. Stine


Teleplay by: Paul Bernbaum

March 9, 2002
012
A group of kids at summer camp find themselves in another camp that's

been suspended in time thanks to an Indian spirit. Starring Allison Mack, Sam Jones III, Dan Byrd, and Danielle Fishel.

13
"Camp Nowhere: Part 2"
James Marshall
Story by: R. L. Stine


Teleplay by: Paul Bernbaum

March 16, 2002
013
The group of kids from the previous episode must contend with Indian

spirits that have captured the kids of Camp Hawkwood. Also starring Frankie Muniz and Kevin Meaney.
Cast
Trivia
While 13 episodes of the series were made, only 8 have been released on DVD. The DVDs available are The Nightmare Room: Camp Nowhere and The Nightmare Room: Scareful What You Wish For.
In the opening of episode 5, Fear Games, an opening credit reads: Based on the Short Story by R. L. Stine. This credit is inaccurate since Fear Games was actually based on the three-part series, The Nightmare Room Thrillogy.
The Nightmare Room has featured many notable actors, such as Frankie Muniz, Justin Berefield and Tania Raymonde, all starring in Malcolm in the Middle, Shia Labeouf, Amanda Bynes and Allison Mack.
DVD advertisement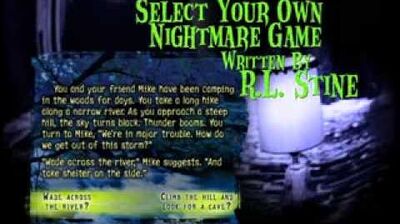 Community content is available under
CC-BY-SA
unless otherwise noted.