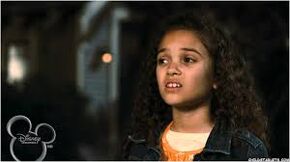 Tara Roland is one of the protagonists of the book and film series of Mostly Ghostly and is the younger sister to Nicky Roland. She and Nicky make a deal with Max Doyle to make his life better, if he can help protect them and find their parents.
Personality
She is nice, kind, sweet and wise but can be curious about humans, she can also brave and cheeky.
Actress
She was portrayed by Madison Pettis in almost all of the films, she plays her in the first two, but in the third movie, she's played by Olivia Ryan Stern.