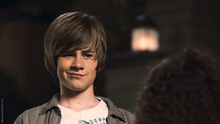 Nicholas "Nicky" Roland is the one of the protagonists, of the book series Mostly Ghostly. Nicky and his sister Tara find themselves as ghosts in the beginning of the series, with little recollection of their lives, no recollection of how they died, and with a new family living in their home, that can't see them.
Personality
Nicky is an average kind hearted teen. He often has small arguments with his sister Tara, but is very protective of her. Nicky is afraid when he finds out that he and Tara are ghosts, he is somewhat over it when he finds joy out of scaring Max and his brother Colin later on. When Max recovers a possesion of Nicky's (a shoebox with weird items) Nicky finds a picture of his family. Nicky becomes very sad when he discovers this, he even shares a cry with Tara over it. Nicky upon trying to be loyal, is quick to bail on something if it becomes bad.
Actors
Just like Max, he too is played by a different actor in all the films.
Part 1: Luke Benward
Part 2: Roshon Feegan
Part 3: Blake Michael