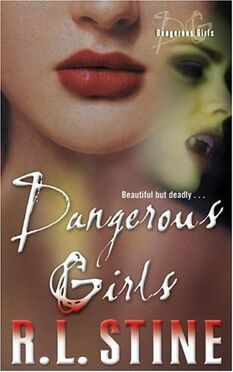 Dangerous Girls is the first novel in the Dangerous Girls series by R.L. Stine. First published in 2003, the novel was followed by a sequel, Dangerous Girls: The Taste of Night, in 2004.
Plot
During summer break, at Camp Blue Moon, the vampire Lorenzo "Renz" Angelini sinks his fangs into the throat of sixteen-year-old Destiny Weller. Afterwards, she and her twin sister Livvy return home in Dark Springs with a craving for blood; they feed on a rabbit's blood and Destiny sucks blood from a package of liver. While at the house of a family friend, Coach Bauer, the sisters meet Marjory Bauer, another vampire. Marjory says she is undead and the Restorer can restore their life.
At Dark Springs High School, in Renz's office, Destiny talks with him and decides he is the Restorer. She asks him if he will help her and her twin. He says that he will come and take care of her at the senior overnight. Back at her house, Destiny greets her friend Nakeisha Johnson, who tells her Renz was left out of the camp yearbook and there are no photos of him. From this, Destiny determines that Renz is actually a vampire and not the Restorer.
During the senior overnight, Destiny meets Renz, shoves a wooden tent pole through his body and kills him. Her father appears, and tells her that he is the Restorer. He cures her, and they go and find Livvy and her friend Ross Starr at the edge of a grassy clearing. Livvy tells Destiny and her father that she has been immortal since camp, and that she and Ross exchanged blood. Livvy and Ross change into blackbirds, and fly off into the black sky.
Community content is available under
CC-BY-SA
unless otherwise noted.