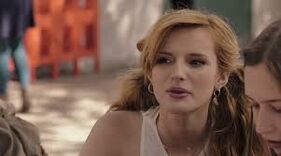 Cammie Cahill is a protagonist in the film and book series Mostly Ghostly and is the love interest of Max Doyle. She replaces Traci Walker, from the book series.
Personality
She is a very nice girl, and she finds Max an interesting person, throughout the second film, she grew more attached to Max, and by the end, she fell in love with him.
Her personality is different in One Night in Doom House:
Cammie is usually very nice, but there are times when she can get annoyed. At first, she doesn't believe in the supernatural; this is shown when Max tells her that he has actual ghosts in his house to which she doesn't believe him and tells him they should "take a break."
Cammie seems to prefer using common sense and logic to explain things. She is also loyal and cares for the people close to her.
Actress
In Have you Met my Ghoulfriend? Cammie is portrayed by Bella Thorne (As seen in the photo above), but in One Night in Doom House, she's portrayed by Sophie Reynolds.